Below is a copy of the email that I received last week from It Works Global! They are fresh off of their Dash to the Destination weekend (a SWEET weekend getaway for those in the company who qualify at TRIPLE DIAMOND AND ABOVE! (I'm diamond now and WORKING MY WAY UP TO THAT TRIP NEXT YEAR BABY!) 🙂
Visit http://HotMamaBodyWrap.com today to change your life and live

debt free!!!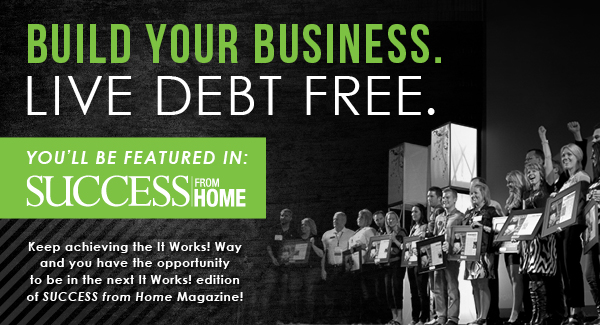 DASH to the Destination Announcements

We had a blast at Dash to the Destination with 200 of our top leaders! Did you hear about all of the exciting announcements that are going to change your business? Here is a recap of all of the great things for you…SUCCESS from Home magazine wants to feature you—It Works! Global and the innovative Get Out Of Debt (G.O.O.D.) Bonus! Everyone has the opportunity to be featured in the magazine!*Many distributors who made the magazine last year saw their businesses not only grow faster than ever before, but also experienced doubling and tripling of their teams during the two month promotional period. Do you want to experience growth like that in October and November? Here's how you can and make it in the magazine:• In With 10: If you enroll 10 qualified distributors during October or November, YOU will make it in the magazine!**• Get That G.O.O.D. Feeling: If you qualify for the G.O.O.D. Bonus for the first time in October or November, YOU will make it in the magazine!• Take It To A Whole 'Notha Level: Diamonds and above, if you promote to any higher rank during October or November, YOU will make it in the magazine!

• Reach For The Top: The Top 20 Earners will receive a full one-page spread in Success from Home Magazine dedicated to YOU! The Top 5 income earners will receive special recognition on their page.

On top of the SUCCESS from Home promotion, we are going to extend the $99 Business Builder Kit and the G.O.O.D. Bonus until December 31, 2012, so you can use these tools to promote and be featured in the magazine!***

Do you want to see what it would be like to be featured on the cover of SUCCESS from Home Magazine? You can right now in 3 easy steps:

1. From the App Store (only available for iPhone or iPad), download the application called "It Works! SFH Photo Cover"!
2. Take a new picture or any picture from your iPhone or iPad and save it to the cover app.
3. Go social! Share the picture on Facebook and make the commitment to be in SUCCESS from Home Magazine with It Works! Global.

Share these 3 easy steps with your team right now!
---

Boost your kit and get ready to party! Party your way to profits with the new Booster Pack and Mini Booster Pack. The Booster Pack has everything you need to host three Wrap Parties and walk away with $1100+ in Wrap Party cash. The Mini Booster Pack contains everything you need to walk away with $300+ in party cash from your first Wrap Party. Please note, the Mini Booster is only available during enrollment.
The Party Pack has all of the materials you need before, during, and after three Wrap Parties! The Party Pack contains 100 Blitz Cards for your first blitz day, 3 party sign-in sheets, 25 It Catalogs, 20 customer order forms, 5 distributor application forms, and 25 thank you notes.
---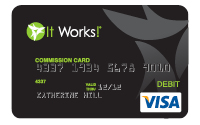 Coming Soon! You can get paid in style with the new It Works! Global Paylution Visa Card! Show off It Works! no matter where you go when you pay with this branded card. Starting soon, all distributors will have the option to order this new card.
---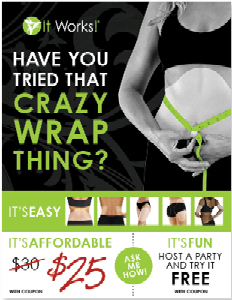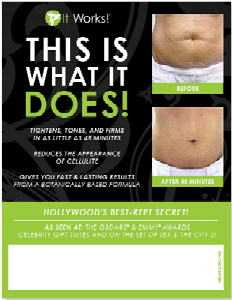 Love the Blitz Card? Well it just got EVEN better! Our new and improved Blitz Card will help take your business to a "Whole 'Notha Level"! The new Blitz Card will be available by the middle of October.

*Please review the SUCCESS from Home Promotion Official Rules.
**You must submit the SUCCESS from Home Verification Form to qualify.
***Please review the G.O.O.D. Bonus Official Rules. New G.O.O.D. Bonus Flyer for Prospects now available!
Now, if that doesn't look like an amazingly GOOD bunch of FABULOUS new releases, I don't know what does! It Works Global just never stops coming up with awesome ways to help and encourage and strengthen it's distributors (the 52% commissions don't hurt either!!!) 🙂
Did you know that YOU could get in on this amazing promo!? YOU could be featured in the next Success From Home magazine with US!
You won't regret jumping in with It Works Global! It has seriously made dreams come true for me! And it continues to, every single day! 🙂
Get in now and start working your way to the top! Bet I'll see you at the Dash next year where we'll be pampered and catered to with a big group of It Works Global ROCKSTARS! 🙂
Join my team! We'll just go straight to the top together!!! Click here!
Want more info? Check out http://HotMamaBodyWrap.com and enter your info on the sidebar! I'll email you right away! 🙂
Tags: business opportunity, It Works, it works global, make money from home, make more money, stay at home, work at home, work from home